Fluor in blusschuim kent voor- en nadelen. Bij grote oppervlaktebranden zorgt het voor een goede afdekkende en hittebestendige schuimlaag, die doorvloeit tot de randen van de plas.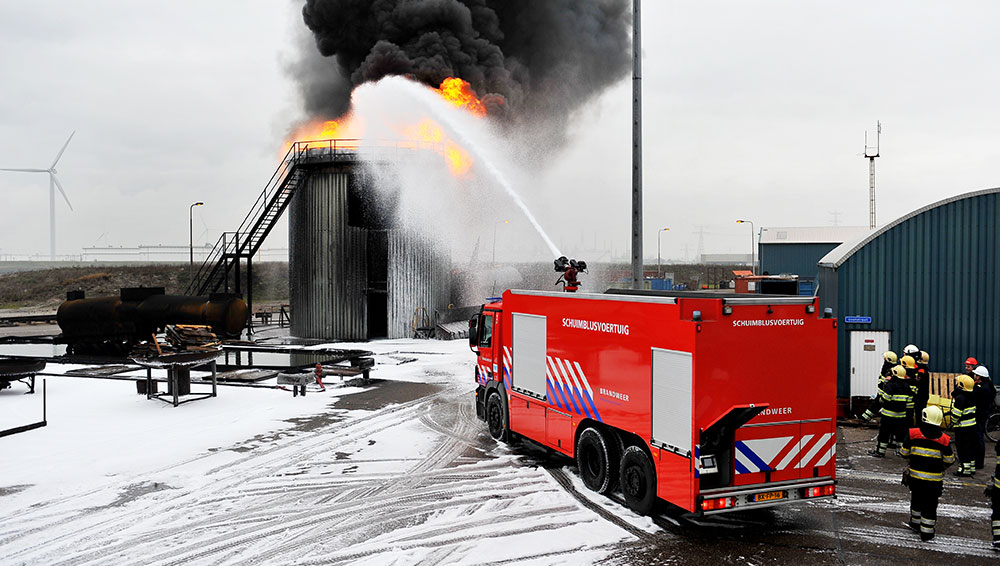 Fluor is echter ook bedreigend voor de gezondheid, biologisch niet of zeer traag afbreekbaar en moet zo min mogelijk vrij in het (aquatisch) milieu terecht komen. Fluorhoudend SVM laat zich moeilijk als chemische stof in opslag of installatie isoleren, het is een gebruiksstof en contact met mens en milieu vindt op diverse momenten plaats. Gedurende inspectie- en testmomenten, tijdens oefeningen en trainingen en tijdens daadwerkelijke calamiteiten. Voldoende reden om naar alternatieven te zoeken.
Kappetijn ondersteunt opdrachtgevers in deze zoektocht en voert projecten op dit thema uit. Om zicht te krijgen op wetenschappelijke ontwikkelingen, publicaties in vakbladen, eisen en normen in regelgeving en brancherichtlijnen, analyses en meningen van adviseurs en resultaten van tests en/of testprogramma's is een uitgebreide internet- en netwerksearch uitgevoerd. Deze project-map bevat het resultaat van deze search.
Alle documenten zijn ongewijzigd en overgenomen zoals gevonden op internet of aangereikt door een relatie. De makers van de stukken worden nergens gekort op hun rechten. Alleen projectbetrokkenen die over het wachtwoord beschikken hebben toegang. De project-map heeft geen commerciële doelstelling: niemand betaalt om kennis te nemen van de inhoud van stukken, Kappetijn vraagt of ontvangt geen geld voor het beschikbaar stellen van de informatie.
Aan de makers van individuele stukken is vooraf niet gevraagd of ze in deze projectmap opgenomen willen zijn. Als een rechthebbende op een document zich meldt wordt een stuk op eerste verzoek verwijderd.
(Inter)nationale succesverhalen over veiligheidssamenwerking
Meer veiligheid tegen minder meerkosten: een interessant perspectief voor de gebiedsbeheerder, overheden en bedrijven binnen en buiten de juridische kaders van BRZO en ISPS. Maar wat komt er allemaal kijken bij de vorming van een Mutual Aid of PPS?